Last updated on
Real Estate Purchase Counter-Offer form
Designed for Real Estate, Legal, and Sales
BG
Created by Blanca Gallego on Parallel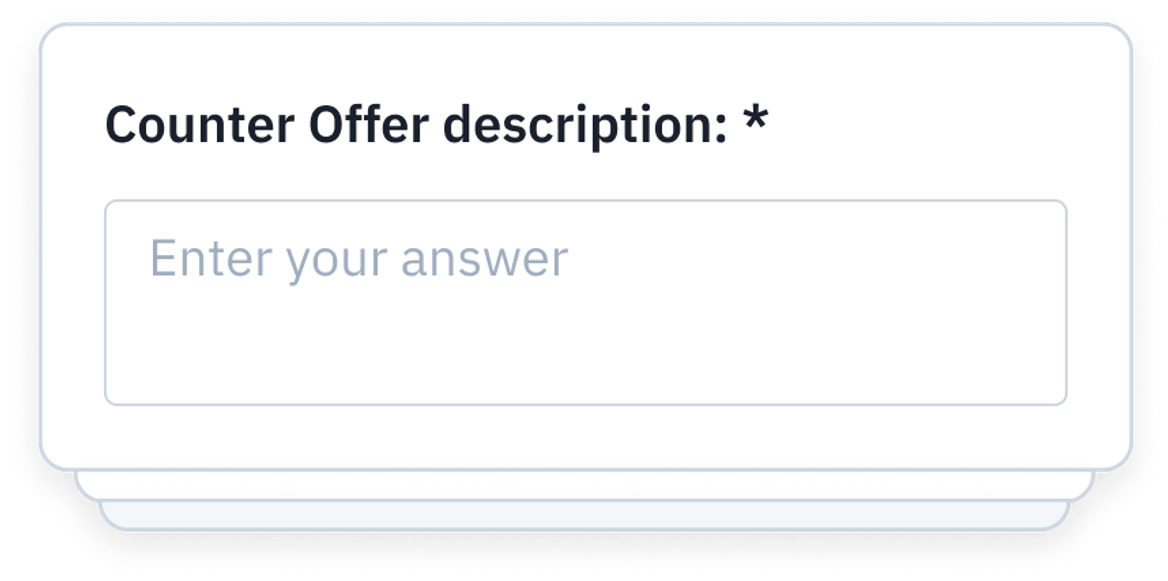 This template includes
19 question fields
Conditional fields
Possibility to enable eSignature
Personalized message
About this template
Are you negotiating the sale or purchase of a property?  Are you a buyer, seller or real estate agent? Do you want to formalize a counteroffer quickly, easily and 100% online? If this is the case, this template is a perfect fit for you! With Parallel, you can automate the creation of a real estate counter-offer form.
If you are already at the counter-offer stage, whether you are a seller, buyer or real estate agent, it is in your interest to execute this contract as soon as possible. Timing is important! If you want to do it with full legal validity but without any complicated logistics, do it with Parallel.
What is a Real Estate Counter-Offer form? This is a form that responds to either the buyer or the seller in relation to purchasing a property.
What is in this Real Estate Counter-Offer form?
Seller/Buyer Identification 

Property Description

Terms and Conditions

Counter-Offer proposal

Acceptance\Counter\Rejection
This template is a generic example, and you can try it with your company. However, it can also be very easily modified to adjust to your agency's conditions. 
Finally, to sign the contract, once all the data has been completed, activate the electronic signature. Read more about our e-signature integration here. 
Please note that, there are fields to complete the information but once completed it will be fully integrated into the text and in PDF.
Information list
Other similar templates